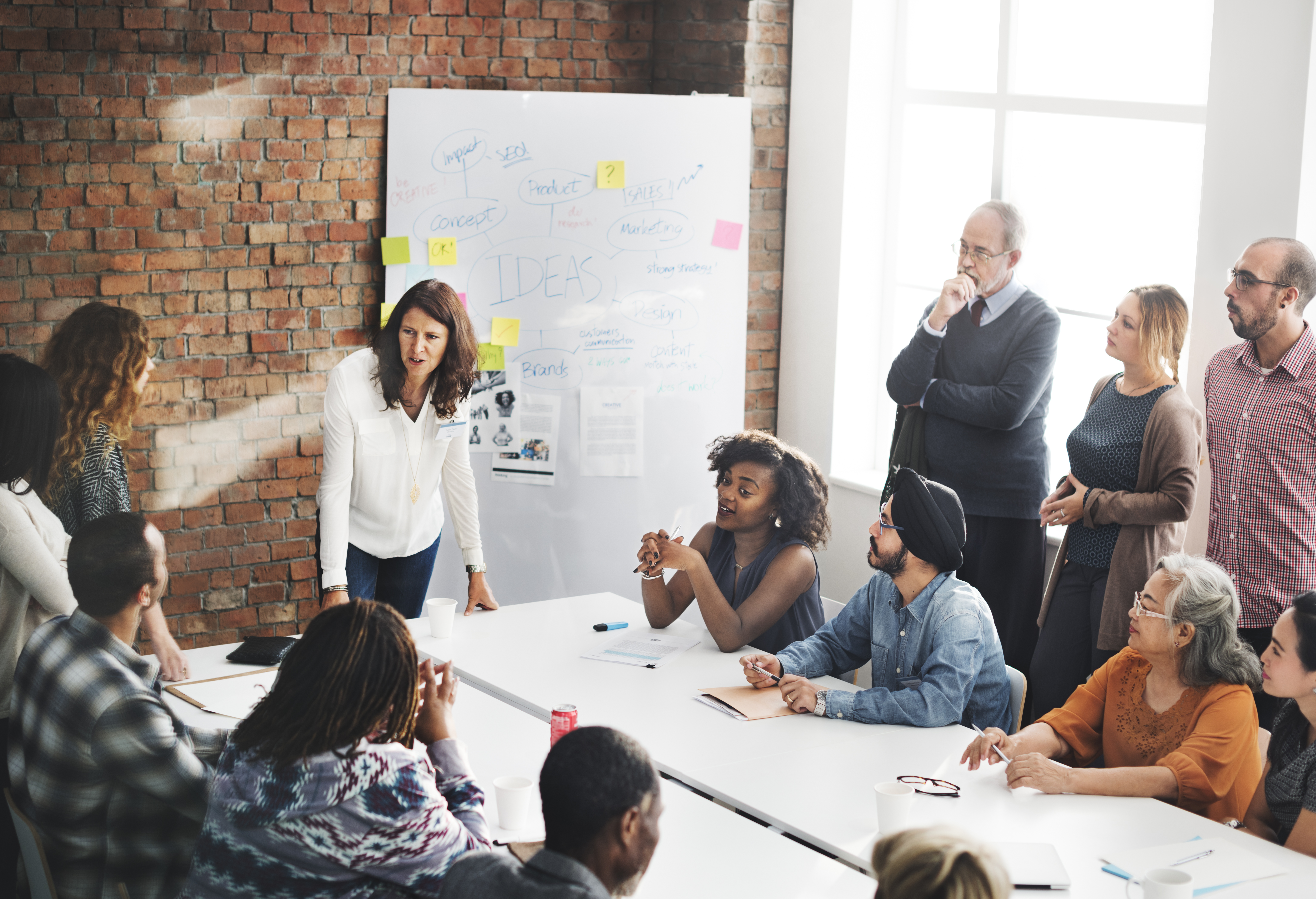 Full price: £800 (+VAT)
Member price: £480 (+VAT)
Do you work for a small or medium organisation?
If you work for an organisation with 250 staff or fewer, you may be eligible for a bursary for this programme, which covers 50% of your enrolment fee. Applications are now open for 2023.
Please fill out this form if you would like to be considered. We will review applications on a rolling basis and will close when sufficient submissions have been received. You can expect to hear back within two weeks or your application. If offered, your place will be secure once we have confirmation of your online purchase or we have received a purchase order from your organisation.
Payments are made at point of booking through our secure online booking system. We can invoice your organisation for five or more purchases or if your purchase have a value of more than £250 (please see the section Discounts and invoices below for more information).

You will be granted access to the programme for 12 months from the date of purchase.
Please log in to see your best price.

Are you a current or aspiring leader? You can improve employee wellbeing and productivity by becoming a psychologically informed leader with our evidence based programme approved by The Institute of Leadership and Management.

This programme is suitable for those who have a solid understanding of psychological theories, whether through an undergraduate psychology degree or related social science.
Become a psychologically informed leader
This programme will support your growth and development towards becoming a psychologically informed leader. Research shows that psychologically healthy workplaces have five times less staff turnover (APA, 2014). This programme will increase your knowledge of key evidence based psychological models and theories of leadership, helping you to foster a psychologically healthy workplace.
Create an inclusive workplace
As a leader, what you say and do matters. Evidence shows what leaders say and do makes up to 70 per cent difference as to whether an individual feels included (Bourke & Titus, 2020). By applying psychology of leadership principles in the workplace. Develop your skills and behaviours so that you can be a leader that encourages inclusive environments in your workplace.
What to expect from the Inclusive Leadership programme
​The programme focuses on four themes: The Self, The System, The Impact and The Application.
It consists of six modules, made up of four online eLearning modules (modules 1, 2, 3 and 5) and four online workshops (2 in module 4 and 2 in module 6). During the eLearning modules you will learn some of the psychological underpinning of leadership and inclusive leadership. The online workshops, aim to consolidate, expand and apply your learning.
Each eLearning module take approximately 2-3 hours to complete, and each workshop is four hours in duration. Overall, the programme will provide you with approximately 24 hours of CPD learning. You will have 12 months to complete your learning.
You can now sign up for the following cohorts:
To help you get the most out of your experience, the workshops have been arranged so that you are placed in an indicative cohort. However, you will have the flexibility to continue if your commitments change.
Pre booking onto workshop sessions allow you to plan your progress through the programme. When choosing your cohort, allow yourself enough time to complete the required eLearning modules ahead of the workshops.
Learners in

cohort 2023 - 4

should attend

module 4 workshops on 1 and 8 December

and

Module 6

on 9 and 23 Feburary 2024.
Learners in cohort 2024 - 1 should attend module 4 workshop on 14 and 19 March and module 6 on 9 and 23 April 2024.
For the best learning experience, we recommended you attend the workshops within your cohort. However, we appreciate that sometimes your diary commitments change and so if you are unable to fully participate in your cohort, you will be able to join a later group to complete your learning. Additional cohorts and workshop dates will become available later in the year.
Please note that your workshop places are only secured once you book onto the workshops after enrolment to the programme.
In addition to the site policies this course is subject to additional terms and conditions.
Be recognised by The Institute of Leadership
Upon completing this approved programme, you may wish to become a member of The Institute of Leadership which would mean that you can use the postnominals MInstLM.

Is this course right for me?
This programme is suitable for those who have a solid understanding of psychological theories, whether through an undergraduate psychology degree or related social science.
By the end of this programme you will:
Understand and be able to describe what effective leadership means, the role of inclusion in leadership and how psychological principles can inform effective leadership.

Understand and apply key psychological models and theories of leadership, including how, when, and whether they might be applicable or most effective for different situations.

Recognise and acknowledge difference and its importance when leading others.  

Be able to identify key skills and behaviours which underpin effective inclusive leadership, understand why they are important and create a plan to develop those required skills.

Understand the importance of reflection as a leader, have knowledge of and be able to identify and use appropriate tools to ensure continuous introspective reflection.

  Understand the bases for stereotyping and bias, examine one's own biases and incorporate relevant techniques into self-reflection practices around any actions that may arise from learners own perceptions and behaviours.

Be able to define what we mean by 'the system' and understand the impact that the system and the environment has on leadership and the need to adapt and change leadership behaviours,  to achieve desired outcomes within a fair and just culture that has openness and transparency at its core.  

Understand what a psychologically safe environment may look like, demonstrate how to establish and maintain a psychologically safe environment to support effective inclusive leadership, and understand its importance within the system.  

Have knowledge of the systemic basis for bias and stereotyping and practice confidently challenging biases and stereotypes to promote inclusion within the system.  

Be more aware of the impact that different leadership styles and approaches have on others, and on work and the wider environment.    

Acknowledge how a leader's behaviours, decisions, and reactions can influence the environment, and how best to adjust these as needed. 

Select appropriate techniques to best manage the impact of leadership and leadership decisions.   

Understand and practise the skills to effectively tailor and use effective leadership skills and behaviours which are appropriate to the situation, environment and people involved.

Be able to identify challenges to the application of effective inclusive leadership behaviours and start developing ways to mitigate or overcome them.

Begin to engage with reflective practice to monitor, review and start considers ways to adapt leadership skills, and to create short, medium and long term action plans for future application.
This programme is available in English only.
Member Discounts
These are automatically applied when you log in to BPS Learn.
Booking on behalf of an organisation?
If you or your colleagues are looking to book onto this course as a group you can make savings by booking ten or more places. To find out more about our packages contact cpd@bps.org.uk.
Invoicing
If your organisation prefers invoicing over online payment that's no problem. We can invoice you for five or more purchases or if your purchase is for more than £250.
Take a look at our guidance to support the process.
In order to request an invoice please send a Purchase Order to cpd@bps.org.uk. This should include, the course title, names and contact details and BPS Membership status (were applicable) for each participant. We will issue an invoice, once paid your learners will be provided with details of how to access their learning.
Packages for BPS Accredited education providers
We can arrange special packages for our partners at BPS Accredited education providers so that you can offer further learning to your students and colleagues. Contact cpd@bps.org.uk to find out more.
This course was organised by BPS Professional Development. Contact us on cpd@bps.org.uk.

You may also be interested in our other courses on BPS Learn, including those related to leadership and your personal development.


You can also explore the range of BPS books available via Routledge.